Events Category
Back in September many of you took the time to fill out a survey and sign a petition with regard to bringing a Farmers' Market to Ambler, and I am thrilled to say that your voice was heard! The results of the petition and survey painted a very clear picture; not only are residents in favor of a market, but desperately desire access to local, farm fresh food.
This past August, a small committee within Ambler Main Street began working to bring a Farmers' Market to Ambler; based on the overwhelming response from the community, the efforts kicked into overdrive. There has been a ton of behind the scenes work over the past several months, including writing a business plan that proved the Ambler community could support a market. There is still a lot of work to be done, but knowing that the market is a go is one of the most exciting things I've been a part of, ever. Although many hurtles have been crossed, we still need your support to help bring this market to fruition, please consider donating to the Ambler Farmers' Market so that Ambler Main Street can bring you the best possible market!
Ambler Main Street will be working in concert with Farm to City, an organization whose goal is to unite communities, families, and farmers through good locally grown food. The market will open Saturdays, beginning in May and run through November, in the SEPTA parking lot adjacent to Trax Restaurant & Cafe. For now, please visit the facebook page and like the Ambler Farmers' Market to keep up to date; there is a website and lots of information to come! Thank you for being a part of this!
This December marks the 4th annual Holiday Window Display contest and several of Ambler's finest are all dressed up! Between the businesses who have decorated and the borough, who has hung garland and lights throughout town, it is certainly feels a lot like Christmas! If you happen to be in the right place at the right time, you can even enjoy Christmas music playing downtown on Butler Avenue through the borough sound system!
There were two big changes to the contest this year; the first being that the sponsor who originated the contest pulled out. Without this individuals backing the contest almost came to and end, but fortunately Ambler Main Street stepped in and took over! AMS organized the event as well as put up the money for the winners (first, second and third place). The second major difference is how the winners are selected. In years past, the participating businesses were the ones who voted (not being able to vote for themselves), this year voting is open to everyone!
There are two ways to vote, online or in person at one of three locations; Sew Vintage Boutique, Tony Laguda Formal Wear or Toto's Gelateria & Caffe. The businesses who responded in time are on the ballot, but there is also a space for a write in vote, as there are several great displays that didn't get in in time. Voting is open for the entire month of December, the winners will be announced and presented with their winnings at the Ambler Main Street meeting on January 29th at 5:30pm.
Hopefully you've spent some time in town this month and have had a chance to see how wonderful Ambler looks this time of year! If not, now is a great time to get out there, help support our local businesses and decide which display is deserving of your vote! Below are a few pictures from the night of the parade, many more windows have been done since then, so visit downtown Ambler and take a look!

Seeing as my last post was October events, I feel like I've let you down, particularly as there has been so much happening in town, but such is the case when I get really busy… Some of the many exciting things that I neglected to report in detail are the opening of several fantastic new additions to Ambler; Hatch, Frox, Ambler Beverage Exchange and a few more that are on the way! Also, some interesting restaurant rumors, one of which you've all heard, the other, I'm still working on the details; but I'll tell you this, if it's a go, then it has me excited! Stay tuned for more info.
Now onto December, holy cow, there is lot going on! Hopefully you'll have the time, or be using some of your vacation time, and will be able to enjoy many of these great events. Also, please keep in mind all of the wonderful specialty shops and services that we have in Ambler; they offer exciting and unique, gifts, and who doesn't like a gift certificate?! Alright, peeps, here we go…

December 1:
Holiday Parade, Butler Avenue, beginning at 1pm.
Hatch is celebrating their grand opening, 10am – 5pm. Be sure to bring the little ones as Miss Eileen will be there with music especially for kids, 1:30 – 3:30pm. There will also be store specials, a raffle and more!
The Ambler Bake Shop is offering a free Christmas Cookie to children from the hours of 11am – 3pm.
The Holiday Window Display Contest kicks off! This contest runs for the entire month, so be sure to visit each and every window before you vote! Not only will a few of our fabulous local businesses be named winners, but two voters will be drawn at random to win an Ambler Restaurant Week gift certificate! Complete contest details can be found at www.AmblerMainStreet.org beginning, Saturday, December 1st.
December 2:
Young Starrs Theater Company is performing Into the Woods at Temple Ambler, 2pm. The company is made up of young stars ranging in age from 8th grade to college students. Call the YSTC box office for tickets, 215-285-5500.
The Ambler Skate Shop is hosting the premier of skate video "Pretty Sweet" at The Ambler Theater, 9:30pm. Tickets are $5 and can be purchased at the Skate Shop in advance or at the door.
December 6:
Santa pays a special visit to town! He arrives at the Ambler train station at 7pm, join him as he makes his way down to Borough Hall for the Christmas tree lighting!
The Ambler Bake Shop is hosting an Open House from 4pm to 7pm, be sure to stop in before visiting Santa! They will be offering tastings of their Christmas desserts, including cakes, pies, cookies, and more. They will also have sample dessert party trays as well as cookie trays that can be ordered for the Holidays.
December 7:
Essenza day Spa is has partnered with other local businesses and is hosting a fun filled Holiday Shopping Event, Spa Style for a Cause! Enjoy champagne, food and desserts and complimentary mini spa treatments while you cross items off of your holiday shopping list. If that isn't enough, they will also be raising money for the American Red Cross to help with Sandy Relief by holding an awesome silent auction. So many great offers, check the site for compete details. Event runs 5 -9pm, RSVP by December 3rd. www.EssenzaDaySpa.com
Addicted 2 Dance is hosting a Drop 'n Shop/Dine. Drop off the kids (ages 2+) and spend a few hours in town doing your holiday shopping and getting a bite to eat, or why not do something for yourself and spend some time at the salon/spa! It is $5/child/hour; there will be games, movies and of course, dancing, all supervised by the great dancers, staff and parents of A2D. Pre-register at office@a2dance.com, offered from 6 – 9pm.
December 8:
St. Mary's Castle Tour! If you missed it last year, be sure to put it on your schedule, 1 – 5pm. If you can't make it, check out the photos from the last tour.
December 10:
The Holiday Goose! Be sure to catch this family friendly, musical comedy of Christmas Day in old Italy. This show is put on by Family Stages  at the Ambler Theater, show begins at 10am.
December 12:
Holiday Sing-A-Long with the Ambler Symphony at the Ambler Theater. Join in this annual Ambler tradition and sing along to holiday favorites then settle in for a screening of the original 1951, A Christmas Carol. Symphony begins at 6:30pm, with the movie to follow at 8pm.
December 13:
Chamaeleon Boutique is hosting Entertain with Style, which is an event that will teach to you to do just that! Pick up some great tips on how to "Entertain with Style" from several special guests, also enjoy appetizers and specialty drinks! Special discounts for all your holiday gift giving for that evening!
Wissahickon Middle School Honor Strings will be playing at the library at 4:30pm, then immediately following at Ambler Savings Bank at 5pm.
Saint Anthony's will be having a Live Nativity, 6 -8pm.
December 14:
Murray the Elf and the Case of the Missing Mistletoe kicks off at Act 2 playhouse. This is sure to be a great holiday treat for the family and includes a pre-show sing-a-long and post-show discussion with the actors. The show runs Dec 14 – 23, tickets are available here.
December 15:
The Philadelphia Hand Bell Ensemble will be performing at the First Presbyterian Church at 4pm.
It's family movie day at the Ambler Theater, always a fun time, benefiting a great cause! The doors open at 9am, and I suggest getting there early, as there is a lot to do! Be entertained by a DJ, local cheerleaders, special guests, prizes, raffles, Dunkin Donuts and more! Afterwards head into the theater and see your choice of either Brave or The Princess Bride. Admission is free with your donation of a new, unwrapped toy, or new winter clothing, or an non-perishable food gift. All donations and proceeds benefit The Mattie Dixon Food Cupboard in Ambler!
December 20:
You do not want to miss "Twas the night" at Forest & Main! Spend the evening at the pub enjoying dinner by candlelight, costumes and two reading of the Christmas classic, "Twas the Night Before Christmas." There will be an early evening reading for families at 6pm and a second later in the evening at 10:30pm. I suspect this will be an annual tradition, be a part of the first one!
Congratulations to Pure Spa, as December 20th marks their 5 year anniversary! Join them to celebrate with some champagne, snacks and the best offers of the year! Stay tuned to their facebook page for more details.
December 21:
Eat, Drink, Shop and be Merry at Holiday Night Out at Barberella! Take advantage of great specials on jewelry, makeup and hair products, also featuring a fun pop-up boutique with the fabulous fashions of Sew Vintage and also, psychic readings! Come prepared for fun, 5 – 9pm.
December 24:
Between the hours of 5 – 8pm, be on the lookout for the big man! Yep, that's right, before Santa heads off on his sleigh, he will be making a special appearance in Ambler! When you hear the fire siren, make sure you come a running!
There are undoubtedly some happenings that I missed, so keep checking back as this list will continue to be updated. If you know of any Ambler events that should be listed, please feel free to drop me a line, allisonbwolf at gmail dot com. Also, mark your calendars, as Ambler Restaurant Week is back, running January 20-27! More details, including participating restaurants and their menus will be released soon. If you're on facebook, stay up to date here.
I wish you all a very happy holiday season and look forward to seeing you in Ambler!
To say there is a lot going on in Ambler this month would surely be an understatement! You can always find out what's happening in Ambler by checking the event calendar, but as October is so action packed, I thought I'd prepare a little summary below. Hope to see you in town!
Friday, October 5- If there were anymore packed into one night, it could be a crime…
Saturday, October 6
Oktoberfest: Downtown, Butler Ave and beyond, 10am – 5pm. Ambler is celebrating its 22nd Oktoberfest this year, and as always, it promises to be a good time for all ages! You will find great food, games and rides for kids, arts and crafts, live music and more! In the true spirit of an Oktoberfest, Dettera will setup street-side serving bratwurst and select Oktoberfest beers, also Forest & Main is opening early at noon and will have live music, tasty food and of course, beer.
Sweet Briar Cafe Grand Opening: After taking over Coneheads this past May, Sweet Briar is ready to celebrate their Grand Opening complete with live music and tasty treats including fun seasonal items like Franks n Steins (hot dogs and root beer floats).
Friday, October 12
Rock 'N Roll on the Patio: Trax Restaurant and Cafe, 8:30 – 11pm. Come get your groove and your grub on outdoors at Trax. Out of Order gets rocking at 8:30pm on the patio and at 9:30pm Chef Waxman will offer a special grilling menu. The event is rain or shine and guests are encouraged to bring blankets and chairs for lawn seating. Don't forget, Trax is BYOB!
Tuesday, October 16
Le Mode de L'Automne: Massa, 6 – 9pm. Sew Vintage and Massa have teamed up to bring Ambler a fantastic night! Massa is opening up for an exclusive dinner and fashion show featuring the new fall line at Sew Vintage. The night begins with complimentary cocktails from 6-6:30pm, a delicious prix-fixe dinner begins at 6:30pm and the fall line is unveiled at 6:45pm.
Thursday, October 18
Ambler Food Co-op Community Meeting: Ambler Theater, 7 – 8:30pm. Find out what progress the Ambler Food Co-op has made since the last community meeting in January as well as what you can expect going forward. Join us for an informative evening and help bring a Member Owned Grocery Store to Ambler!
Saturday, October 20
Donate and Save Day: Cavalry United Methodist, 16 Park Ave., 9am -12pm. October 20th is Reduce, Reuse, Recycle, Donate and Save Day and Cavalry is having a donation day for IMPACT! in their church parking lot. Come do your part and bring your gently used items. As if that isn't enough,  participants will receive coupons for special discounts in and around Ambler!
Thursday, October 25
Chef's Harvest Tasting in the Alley: 6:30pm, Dettera. Join Chef Jeffery Power at Dettera for a 10-course Harvest Feast, featuring freshly caught fish, pedigree meats and fowl paired with composed fall vegetables and served with five exquisite wine pairings in their beautiful outdoor alley. Reservations are required, (215)643-0111.
Saturday, October 27
Natalie's Boob-ie Bash: Ambler Fire House, 6 10pm. Fundraiser to support longtime Ambler resident, Natalie Andia. She was recently diagnosed with breast cancer and underwent a double mastectomy, this event is an effort to relieve Natalie of the financial hardships she will incur while out of work receiving treatment. Tickets to the event are $30 which includes entry, food, beer and soda, music, raffles, and a silent auction.
Wednesday, October 31
Attack of the Giant Leeches Halloween Party: Ambler Theater, 7pm. If you're not planning to trick or treat in town, then there's no other place you should be on Halloween! The costume party, complete with drinks from Forest & Main, begins at 7pm, the bash also features a live act by Yes, Hello! (Ambler sketch comedy troupe) and a screening of Attack of the Giant Leeches with live musical accompaniment from the local band, Agent Moosehead.
Whew, you better clear your calendar! Happy Fall 🙂
If you live in the area, likely you are familiar with St. Mary's Villa on Bethlehem Pike. I was fortunate to take a tour of the estate when they opened it to the public this past January, to read a little history about the estate and see my photos, check out this earlier post. While the property is an important part of Ambler's history, its purpose today is to provide care and services to abused and neglected children and families in the greater Philadelphia area. I've met many locals over the years who volunteer their time to work with the kids and help out in other ways on site. If you've considered doing so, but aren't sure you can commit the time, donations are always welcome and now there is a special opportunity on the horizon; a fundraiser that will benefit the Villa and be a fun night out in town all at the same time!
Sunday, August 26, The Ambler Theater will be hosting a special screening of the 1966 classic "The Trouble with Angels." Perhaps this film was before your time, but it was a huge hit in its day and most importantly was filmed on the grounds at St. Mary's. The fundraiser includes the film screening with popcorn at 4pm, followed by dinner at your choice of one of four Ambler restaurants (Bridget's, From the Boot, Massa or Giuseppe's) all for $40, proceeds going to St. Mary's Villa for Children and Families. Tickets can be purchased in advance through the theater's website.
Find the magical doorway to Narnia in Ambler next week! Pickering Field will be bustling with activity during a week long celebration of the C.S. Lewis classic, courtesy of Cornerstone Presbyterian Church. You can expect to find mini concerts (traditional English, Irish, Scottish, and Welsh songs) and a reading from The Lion, The Witch and The Wardrobe each evening, Monday, August 6th through Friday, August 10th, 7-8pm. There will also be activities for children who may find it difficult to sit through a 3o minute reading, and free water ice for all in attendance!
This is a great opportunity to get the family together and spend some time with your neighbors. Be sure to thank Cornerstone for putting this together, particularly as they are offering this wonderful event free of charge! Be sure to bring your own blankets and lawn chairs if desired. If the weather is inclement, the fun will be moved to Cornerstone Church, 221 West Butler Avenue, adjacent to the Sons of Italy.
Narnia in The Park
Pickering Field, Park & Highland Avenues
August 6-10, 7-8pm each night
Have you ever found yourself in KC's Alley, perhaps things are a tad foggy (a bit like this —>) and then you focus in on, wait, what the Yes, Hello! is that?! Thought to yourself, I'll google that tomorrow, and then…
Well, think of this as your friendly, timely, reminder about Yes, Hello! They are a local sketch comedy group, who've you have probably seen out and about in town, as several group members live and work in Ambler.
Yes, Hello! is celebrating their first anniversary in July and they are pulling out all the stops! They are hosting a screening at none other than the Ambler Theater, Sunday, July 15. The celebration will showcase their sketches, including a few that will be making their debut appearance. You can also expect a little live action, Q&A, and a meet and greet. In the spirit of all things local, 'cause that's how they roll, the food will be provided by Rosey's BBQ, brews from Forest & Main, classical guitar played by Luke Cleary (of Ambler Music) and swag made at the Ambler Skate Shop.
Tickets are on sale now, and hold on to your hats… they are only $5 AND free for Ambler Theater members!!! You may not want to bring the kids to this one, but you definitely want to bring your friends. Check out the trailer below, RSVP on facebook, and get your tickets today before they are sold out. See you there!
Ambler's first official Arts Festival was a huge success! It was an absolutely fantastic day weather wise with an incredible lineup of artists, a great array of talented musicians, tasty treats and an all around good time had by all. This will undoubtedly become an annual tradition in Ambler, to add to the likes of Oktoberfest and the Car Show.
I want to thank all of the fabulous artists who participated, we hope to see you again next year! If you weren't able to make the Arts Fest this year, check out the photo gallery below and and see what you missed. If you were there, find out if you were caught in my lens!
Also, a HUGE thank you to Luke Cleary, of Ambler Music, for doing a bang up job handling all aspects of music for the day. The day could not have been pulled off without you, Luke!!!
You can see/hear some of the music in the videos below, although you'll have to pardon my noobness, as you'll see, I took extremely poor footage (this is why I have professionals video my listings!). The totally rockin', correctly formatted one is by Stacey Moore, who clearly knows how to do things the right way. Actually, there's a good amount of stealing sharing going on here as the "View From the Stage" photo (that I LOVE) is stolen borrowed from Joe Ronca. 🙂
Hope to see you at the Ambler Arts Festival next year!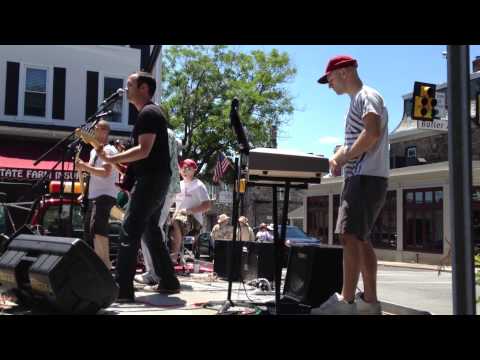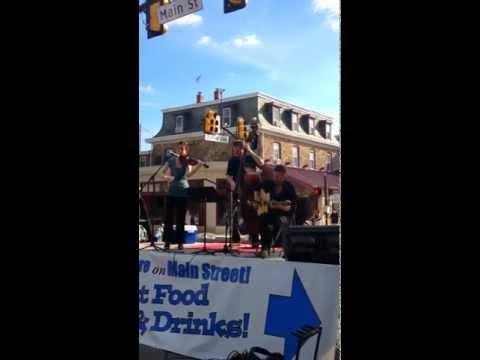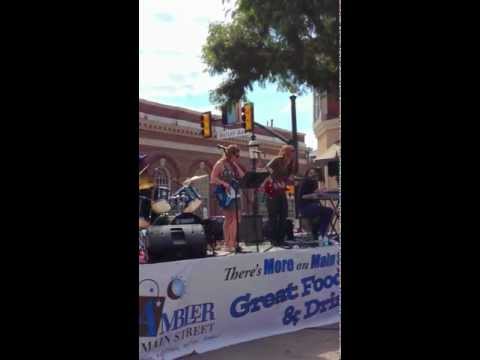 Mark your calendars for the 16th Annual Ambler Auto Show, Saturday, May 19! The show gets underway at 10am and goes through the afternoon, ending at 3pm. There will be a wide array of antique, classic and unique automobiles for all to enjoy followed by an awards ceremony where the coveted Best In Show will be awarded. Bring the entire family and spend the day in downtown Ambler!
Holy cow, there is so much going on this weekend it's approaching overwhelming, but what a great problem to have! Here's the lowdown for the weekend of May 4th…
Friday May 4
First First Friday ~ No, I didn't stutter, this Friday is Ambler's first ever First Friday! Join your fellow neighbors and business owners to celebrate all that is Ambler. Downtown Ambler will be bustling from 6-9pm with live music, art, food, activities and an awesome kids zone! The kids zone will be on Race Street, from Main to Spring Garden, and feature inflatables, face painting, crafts, games and more! The merchants will be open late and several of them will be offering exciting specials. To RSVP and see some of the offerings, check out the facebook event page. See you there!
Ambler Skate Shop Grand Re-Opening ~ Rise and shine with the crew at the skate shop on Friday, they will open for business in their new location at 9am. Yeah, it's a little early, but they are sweetening the deal by offering complimentary Ambler Donuts 🙂 Lunch will be pizza from their new neighbors, Candida's, and come nightfall we'll head across the street to Finn's for a late night celebratory happy hour beginning at 9pm (unless today's incident calls for a change in plans). Congrats to the skate shop on snagging one of the best spots in town (in my opinion)! 33 East Butler, old home to Fine Things.
Rock 'N Roll on the Patio at Trax ~ Trax Cafe is hosting a super cool new concept this weekend; they will be transforming their fabulous patio into a sweet little music venue. Beginning at 8:30pm you can enjoy the music of Out of Order while snacking on bite sized taste sensations from Chef Steve Waxman. He has developed a special $5 snack menu for the event AND it's still BYOB! You really can't beat it, delicious, affordable food, live music and your own libations. I'm in!
Movie in the Park ~ Last year the movies in the park were such a success that they're back! The movie this Friday is Mega Mind and begins at sundown at Knights Park. Be sure to bring your own blanket, chairs and snacks, but no need for your wallet, because it's free!
Saturday, May 5
Philly Am ~ The Philly Am is a premier skate contest that has been around for many years, and this year the Ambler Skate Plaza at Knights Park is playing host. The timing is awesome as it coincides with the Ambler Skate Shop party weekend, they will of course be there, selling their wares but also hosting a tent to fix boards and do tuneups for the contestants throughout the day. You can expect to see 100's of people in attendance, from young kids to seasoned pros. The different categories in the contest include, Grom (the young folk), intermediate, advanced and also a 30+ division. Three16 and several other well know sponsors (in the skate world) will be in attendance with give aways and prizes. In case you weren't sure, this is absolutely a kid friendly event. Registration begins at 9am and the contest fires up at 10am. Expect the event to go until sundown, so if you can't make it in the morning, swing by anytime, there's sure to be a good show!
Now the big question is, how can I be in more than one place at one time…